MagnaClean and Energy Saving Heating Controls
We offer a range of additional services to complement our new boiler installations and central heating system installations.
Our additional services are:
Power flushing with added magnetic filter >
Energy saving heating controls >
Power flushing with added magnetic filter

Are these problems you experience with your central heating system?
Boiler banging and cutting out
Cold spots in the radiators
Poor circulation - cold pipes that should be warm
Black sludge in the pipes and valves
High gas bills
In short, if you believe that your central heating system is under-performing then our power flushing service will be of interest. In the first instance, please contact us to discuss your system problems and we'll be able to advise you on the phone without obligation.
Power flushing involves us flushing through your central heating system so that everything is perfectly clean. The whole process is totally clean and there is no danger of damage to your floors or walls. After power flushing the results will be:
More efficient central heating
Better circulation in the radiators
Rooms reaching temperature faster
No cold spots in radiators
Most importantly, cheaper fuel bills
Prices typically range from £250 (for a smaller system) to £375 and all work is fully guaranteed.
Energy saving heating controls
Why do we need heating controls?
Using the correct heating controls could save you up to 25% on your heating bills. That's a huge amount when worked out over a year. It also gives you full control over your heating system, which makes your heating much more flexible.
Although an initial investment, updated heating controls can pay for themselves within 5 years in addition to making you more comfortable through the brilliant levels of heating control possible. Below are a few of the most popular types of heating controls that we install.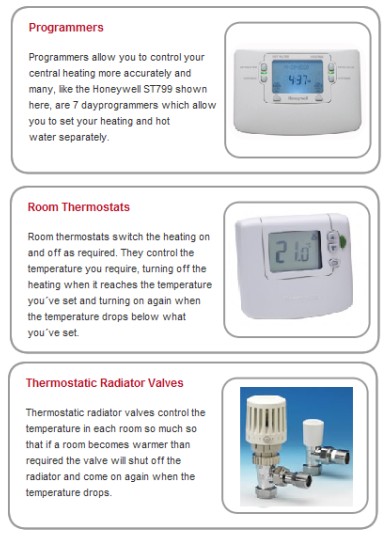 Please do contact us if you wish to discuss how updated heating controls can give you more control while saving on your energy bills. We'll be happy to advise you without obligation.