Gas Boiler Installation Engineers - East Anglia & London
We hope that the information on this page is useful to you but if you're in a hurry, please do just contact us on 01473 406090 or email: hello@eastcoastheatingsuppliers.co.uk
We have been providing gas boiler installations throughout East Anglia and London since 1975. We've installed so many boiler systems that there can be few streets that we haven't worked in within Ipswich, Suffolk, Norfolk, Essex, and London! Much of our new customers come from positive recommendations from our clients that are highly satisfied with the quality of our work and our gas boiler installations work continues from generation to generation as part of our family business.

We fit most manufactured models and our Gas Safe registered engineers are fully qualified to install your boiler. We can also advise on other ways to make your home more energy efficient.
With every new boiler installed you can benefit from our 10 year guarantee, something that no-one else is offering. Also, we can guarantee to beat the boiler installation prices of British Gas – in fact, if we supply you with a quotation that can't beat them, we'll give you £100!
Apart from the general types of boiler available for installation, we can also supply and install Lamborghini Combi Boilers.
We also provide gas boiler repairs, gas boiler servicing and electrical installations. Please see these respective pages for more information.


Assessing your needs
When you've identified that you may need a new gas boiler and have contacted us, an appointment will be made at your convenience. We will then survey your current gas boiler system and discuss your requirements with you. Typically, you may be looking to change your old gas boiler system to an A-rated combination boiler, or an A-rated system boiler, which will save on your energy bills. (Up to £230 a year)

In our experience many homes have boilers that are contributing to energy bills that are much higher than they should be and our customers are pleasantly pleased when their next bills arrive because the energy costs have gone down.
There is no charge for us to discuss your needs and provide you with a quotation.
We have gas safe engineers which cover your area and can start work the next day. Contact us online today or call the hotline: 01473 406090


Wide range of boiler systems

We will install the type of boiler system that perfectly matches your requirements. Below you can see the range of boiler manufacturers that we can choose from to provide the solution that's right for you.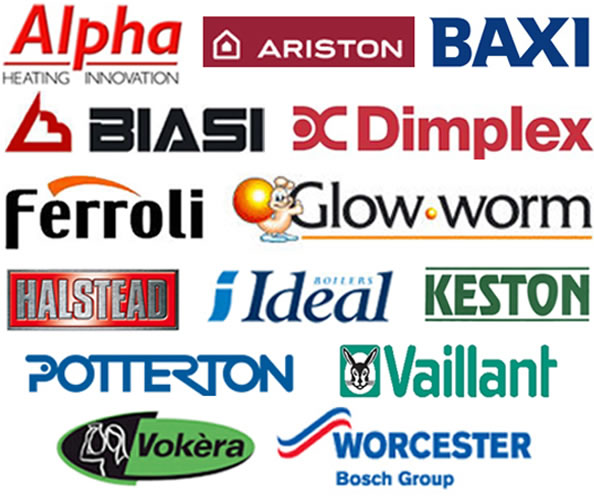 Apart from the boiler types above, we also supply and install Lamborghini Combi Boilers.

Typical gas boiler installation costs
While every new gas boiler installation is unique and so costs will differ, typical costs of boiler installations we provide are as follows:
Combi-boiler: between £1,800 and £2,200
Systems boiler: between £2,000 and £2,500

And remember, all new boiler installations come with a 10 year guarantee and we'll give you £100 if we can't beat a quotation from British Gas.


Funding the boiler installation
A new gas boiler installation can be quite an investment and although many of our customers are in the fortunate position to have access to full funds, it's worth considering that there are grants available that could help towards the cost of your new boiler.
A1 Grant - if you are changing from electric to gas, you are able to receive an A1 Low Carbon Grant, which provides up to £700 towards the cost of your installation. Find out more about the A1 Grant >
Warm Front -
this is government funded and some customers are eligible for a £300 rebate voucher. The heating rebate scheme is for homeowners and private tenants who are aged 60 or over and are not in receipt of qualifying benefits. The rebate only applies if the customer has no heating system or one which does not work (i.e. your boiler is no longer working). We can help you fill in the necessary forms if you qualify.
Find out more about Warm Front >
Special Offers -
if you do not qualify for an A1 Grant or Warm Front we have our own special offers running throughout the year. For example, we often have an offer that provides you with a £400 discount for your old boiler when we install your new boiler. Please
contact us
to find out about our current special offers.

Gas boiler installation process
After your acceptance of our quotation, a date will be agreed for the work to commence.


Our gas boiler engineers will arrive and install your new boiler, which takes between one to two days.


Before fitting the new boiler the old system will be powerflushed and cleaned. A magna clean will be fitted to the system as standard.


The new gas boiler will be commissioned and an analyser will be used to set the boiler to manufacturers instructions.


On completion the gas boiler engineers will explain to you how the new gas boiler will operate.



Our boiler engineers will remove the old boiler, leaving your property clean and tidy.

All paperwork and guarantees will be issued to you and your gas boiler will then be registered online with Gas Safe.


We invoice all our work after the gas boiler installation is complete and there are no upfront payments required.

Our 10 Year Boiler Guarantee
All our gas boiler installations are guaranteed for two to ten years, depending on make of boiler you have installed. Most of our customers have a ten year guarantee.
All guarantees are subject to annual service by our own gas boiler engineers. On completion of your heating installation, you will be added to our database and a yearly service reminder will be sent to you automatically.
We can offer up to 10 years guarantee because experience shows us that a gas boiler that is serviced each year will significantly outlast a boiler that isn't properly maintained.

What people say about our gas boiler installations
Finding someone you can trust to install a new boiler these days can be an absolute minefield. Luckily we managed to avoid those headaches by using East Coast Heating Services. They are what I would call a 'Traditional' family run firm with a good work ethic and where traditional values of good customer service still apply. The work was carried out to a very high standard and the whole process was refreshingly straight forward. Thank you ECHS!
Keiron Gray, Ipswich

Thank you very much for the quick response to our need for a new boiler - it's lovely to have a shower. The engineers were brilliant, arriving extra early for us to go work, and leaving later. The work was carried out really efficiently and they were sympathetic to our requirements.

Many thanks again.

Mr Singh, Ipswich, Suffolk
Thank you for your recent help in installing a new boiler, as usual your prompt attention and help in our situation was really appreciated.
Mr Gale, Ipswich, Suffolk
I would like to take this opportunity to thank you for the fast and efficient way you dealt with my boiler. I was in need of a replacement boiler really quickly and you came and gave us a quote, which we was happy with. On the same day as calling your office you arranged for the installation of our new boiler within our timescale. Your heating engineers were professional on all levels, and were respectful of our property.
Thanking you
Dr. Dwivedy, London
Just to say thank you for the efficient work in changing our boiler. Your engineers were professional but friendly, they were also tidy in their work.
Regards
Mr & Mrs Barett, East Anglia
Could you please thank your engineers for all the work they have done at my property, the work was done really neatly with very little if any mess. They were very proficient and friendly. It was nice to deal with a family run business, and the friendly way we were dealt with was good. I have no hesitation to recommend your company in the future.
Mrs Sharpling, Ipswich, Suffolk

I would like to thank East Coast heating for work carried out at my property. It was very professional and the engineers were polite and friendly. I would recommend your company in the future.
Many Thanks
Mrs Nicholls, Felixstowe, Suffolk